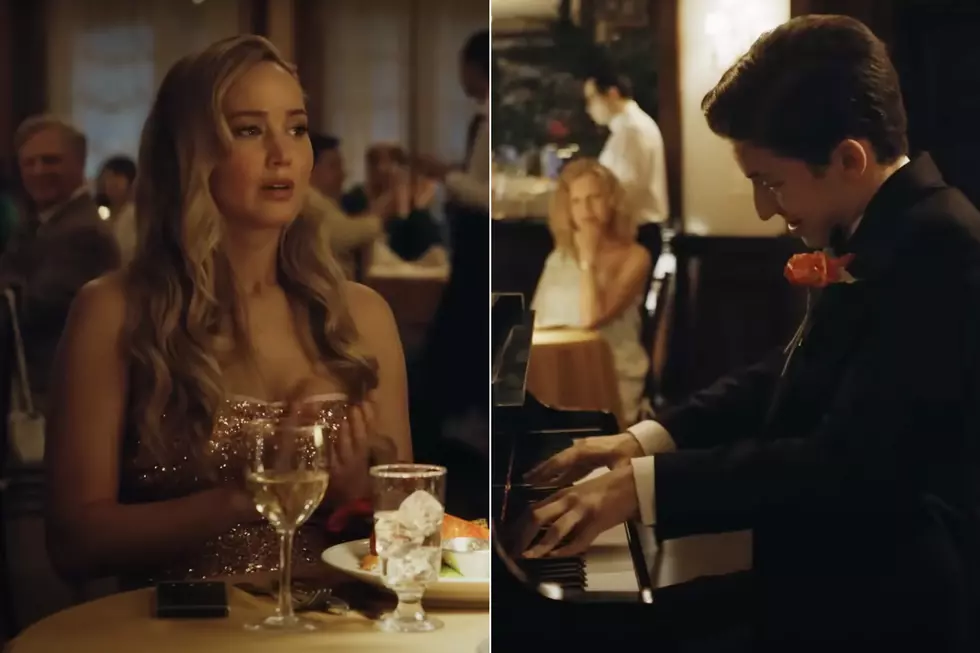 How Hall and Oates' 'Maneater' Steals Show in 'No Hard Feelings'
YouTube
A stripped-down rendition of Daryl Hall & John Oates' "Maneater" frames a pivotal scene in the new comedy movie No Hard Feelings, but it was a last-minute addition to the script.
The film stars Andrew Barth Feldman as Percy Becker, an introverted 19-year-old preparing to go to Princeton. His parents, concerned about his lack of social skills, hire thirtysomething grifter Maddie (Jennifer Lawrence) to seduce him, hoping to bring him out of his shell.
"Maneater" takes center stage when the couple is at a fancy restaurant, where Percy decides to perform the song, which he likes because he thinks it's about a monster that consumes humans. Meanwhile, Maddie realizes that the lyrics define her position perfectly, and the balance of power begins to change.
Production was already underway on the film when director Gene Stupnitsky and co-writer John Phillips saw a clip of Feldman singing Elton John's classic "Rocket Man."  The pair were concerned that Feldman - a child star in musical theater with Broadway experience - would deliver "Maneater" too well. He even admitted to The Hollywood Reporter that a few takes were "full out" but were later cut.
Watch Daryl Hall and John Oates' 'Maneater' Video
They settled on the approach of letting Feldman arrange "Maneater" how he wanted to, while co-producer Lawrence suggested he perform it live, rather than adding vocals later. "It's 100% harder to do," he told W magazine. "It's a nightmare for sound, it's a nightmare for editing, but we knew that if there was any potential for that moment being as special we thought it could be, I'd have to sing it live."
Listen to the 'No Hard Feelings' Version of Hall & Oates' 'Maneater'
"Maneater" spent four weeks at No. 1 starting in December 1982 and remains Hall & Oates' biggest hit. But it was never meant to be quite as relevant to the No Hard Feelings plot.
The song explores the nature of New York City in the '80s. "It's about greed, avarice and spoiled riches," John Oates once explained. "But we have it in the setting of a girl because it's more relatable. … If we have any kind of philosophy for our lyrics over the years, it was to try to take a universal subject and somehow make it seem personal so that people could relate to it as if it was a personal thing."
Oates recently released a reggae version of the song, which you can hear below.
Top 100 '80s Rock Albums
UCR takes a chronological look at the 100 best rock albums of the '80s.