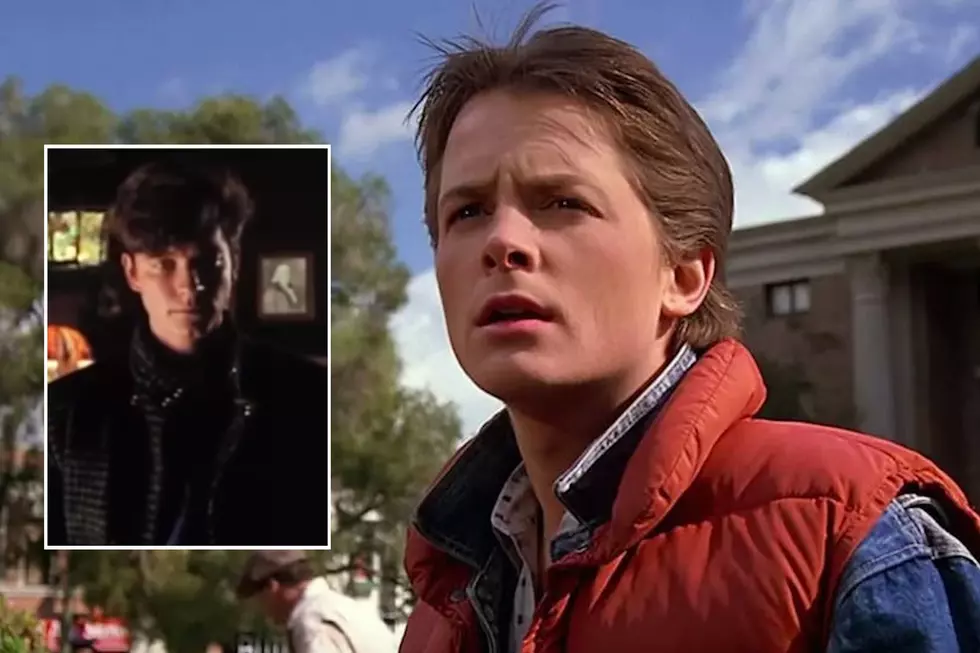 Yes, Eric Stoltz Really Was Almost in 'Back to the Future'
YouTube
Movie and pop culture history would have looked dramatically different if producers had stuck with the original actor cast to play Marty McFly in Back to the Future: Eric Stoltz.
In the early '80s, director Robert Zemeckis spent several years developing the time-travel story that became the Back to the Future trilogy. The script was reportedly rejected more than 40 times, but he persisted and landed a deal with Steven Spielberg's Amblin Entertainment. His first choice for the role of Marty was Michael J. Fox, best known at the time for playing Alex Keaton in the TV sitcom Family Ties after four years of bit parts. The series' producer, Gary David Goldberg, refused to show Fox the Back to the Future script, fearing it would lead to the loss of his key actor. So he was officially unavailable.
Zemeckis moved on to other options, which included almost every rising male star in Hollywood. At the time, Stoltz was in the early stages of building his career, having had a small role in Fast Times at Ridgemont High and Surf II, while being seen on TV shows including The Waltons, Knots Landing and The Fall Guy. Production on Back to the Future moved into shooting with Stoltz on board, but Zemeckis was uncomfortable with the decision. The actor was pushed into the role by Sidney Sheinberg, an executive who was often at odds with the director's vision. Zemeckis felt Stoltz wasn't right for the part, but Sheinberg said they could re-shoot if it didn't work.
It didn't. Stoltz's view of the film's story was also at odds with Zemeckis'. As a method actor who required everyone to call him "Marty" on set to better maintain his character, Stoltz wasn't interested in the movie's comedy aspects. To him, it was a much darker exploration of how fragile family relationships are and how much damage can be done by accident. He viewed Marty's story as having a tragic ending in that he created a perfect life for his loved ones but never got to share in it himself, a perception that's become a matter of academic discussion in the intervening years.
Watch a Clip of Eric Stoltz in 'Back to the Future'
Either way, that insight wasn't helping bring a lighthearted, joke-littered script to life. Five weeks into the shooting, Zemeckis made the call to fire Stoltz and pay what was needed to make Fox available. It was an uncomfortable time because filming continued with senior staff all knowing the footage featuring Stotlz was being used only as technical rehearsals for Fox's scenes. Eventually, Zemeckis told Stoltz he'd already had his last day on the set, and then he assembled the entire filmmaking team.
"'We have an announcement,'" Zemeckis said into his bullhorn," wrote Caseen Gaines in his 2015 book We Don't Need Roads: The Making of the Back to the Future Trilogy. "'It's probably going to be shocking – kind of good news, bad news.' The crowd was starting to grow uneasy, he could tell. 'I'll give you the bad news. We're going to have to re-shoot most of the movie because we've changed the cast and there's going to be a new Marty: Michael J. Fox.' The director saw the reactions. They weren't gleeful, per se, but they didn't seem to be as angry or worried as he had feared. Someone from the crowd shouted, 'That's certainly not the bad news!' 'OK, well, then, that's the good news. I guess the other good news is that we're going to continue on.' He paused. 'So it's only good news and good news.'"
"I felt for Eric. He was a really good actor," said costar Christopher Lloyd, who played Doc Brown. "Although he was doing the part well, he was not bringing that element of comedy to the screen."
Zemeckis described Stoltz as a "brilliant actor," adding, "I simply miscast him and I learned a very serious lesson. You have to cast the movie the right way." He said the act of firing the performer was "horrible," noting, "That was the worst experience of my career. It was just horrible, you know. [I] never want to do that again." The big change was reported to have added $4 million to the $15 million budget, but in retrospect, that's not such a bad deal for a movie that made $390 million at the box office and spawned two sequels.
It's somewhat poetic that the casting change reflected a theme at the heart of Back to the Future: A decision or action, however innocuous at the time, can drastically change the course of future events.
Stoltz went on to other successes, becoming an accomplished artist across multiple genres. "I rarely look back, if at all, but in retrospect, I think just getting through that difficult period helped me realize how freeing it really was," he told Moviehole in 2007. "I went back to acting school, I moved to Europe, I did some plays in New York and I actually invested in myself in a way that was much healthier for me."
Calling the bosses who dismissed him "nice people" and pointing out that no one predicted the movie's amazing popularity, he added, "If I had become a massive star, I don't know if I wouldn't have gone into therapy. On the other hand, I would have been exceedingly rich, which would have been wonderful!"
The story of Back to the Future's casting popped up as a plot device in the 2023 DC Studios movie The Flash, as the titular superhero traveled to an alternative dimension where, among other differences, Stoltz was indeed the star of Back to the Future.
10 Ways 'Back to the Future' Could Have Been Different