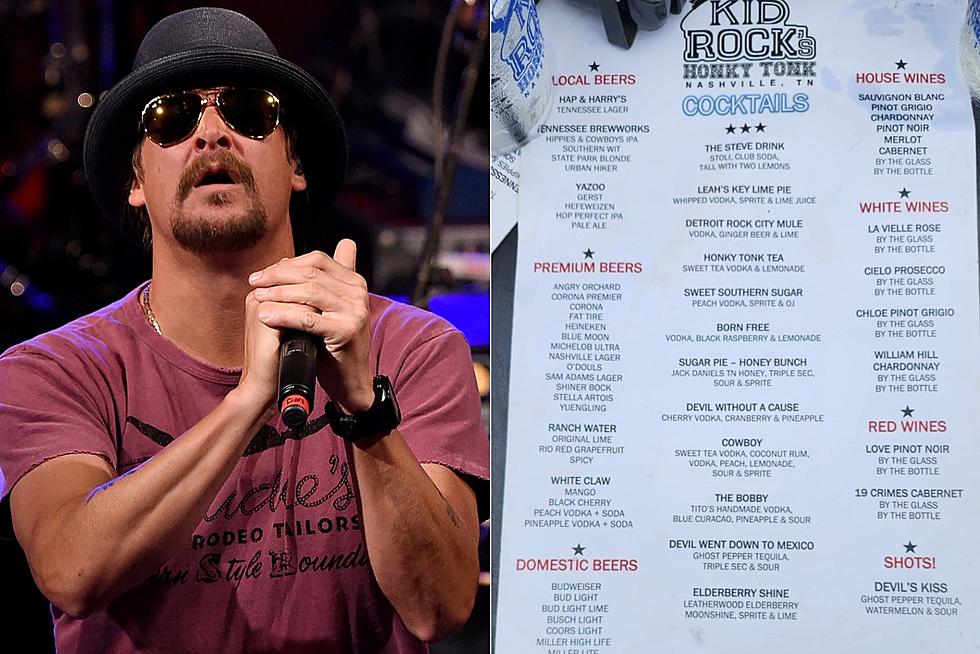 Kid Rock Hates Bud Light but Not Enough to Stop Selling It
Jamie McCarthy, Getty Images / Twitter
Kid Rock may have beef with Bud Light — enough to film himself shooting up cases of it — but apparently his hatred of the company's diversity initiative is dwarfed by his love of capitalism, as the singer is still selling the beer at his Nashville bar.
The Anheuser-Busch brand stoked conservative outrage earlier this year when it partnered with transgender actor and activist Dylan Mulvaney, which transphobes misinterpreted as an attack on their civil liberties ... or something. Right-wingers called for boycotts of the beer, resulting in plummeting sales and two marketing executives being placed on leave.
Among the dissenters was Kid Rock, who felt so personally attacked by Bud Light's partnership with Mulvaney that he saw fit to post a video in which he annihilated several cases of the beer with an assault rifle before turning to the camera and barking, "Fuck Bud Light, and fuck Anheuser-Busch."
If, by chance, any of Kid Rock's fans and fellow conservatives feel like recreating his stunt, they can mosey on down to Kid Rock's Big Ass Honky Tonk Rock 'N' Roll Steakhouse and fetch themselves a few pitchers of Bud Light, according to CNN.
"Despite the online bravado and talk of a boycott, Bud Light was available when CNN stopped in recently," CNN National Correspondent Ryan Young said in a Tuesday segment. "It is not clear if the ban had been lifted or if there ever had been one to begin with."
Twitter users made the same observation, with one user, George Shearer, posting last month: "Nice that you shot up the bud light ... but it's still in your bar. Haha."
Kid Rock has tour dates booked through the end of July. It's unclear how the failed rapper-turned-Warren Zevon cribber will react if he spots a can of Bud Light in the audience.
PICTURES: See Inside Kid Rock's Luxurious Childhood Home
Kid Rock has a rough-and-tumble image, but he didn't exactly grow up in humble circumstances. His childhood home was a 5,660-square-foot luxury home in Michigan, situated on 5.5 acres that includes 5 bedrooms, 7 bathrooms, 5-car garage, along with a partially finished walkout and guest house. There's also a 3 stall horse barn, regulation tennis court and inground pool. The 22-room house was renovated in 2004, and it also has a hot tub and a wet bar.