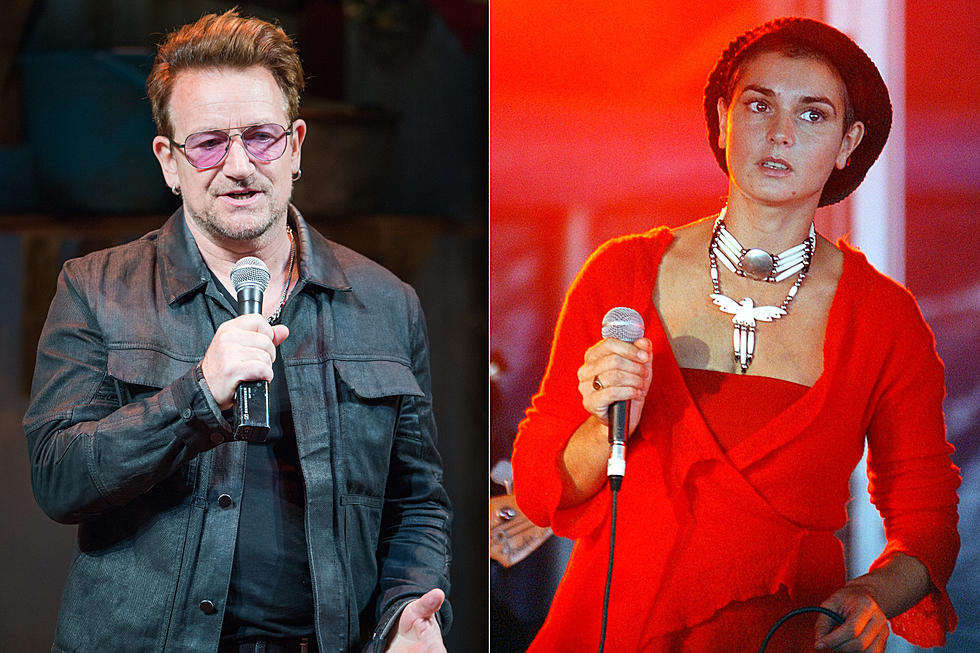 U2 Honors 'Heroine' Sinead O'Connor
Mark Sagliocco / ShowBizIreland, Getty Images
U2 has issued a statement regarding the death of Sinead O'Connor, sharing a heartfelt tribute to their friend and fellow Irish star on social media.
"Touch these eyes with a broken smile, Touch my mouth with your furrowed brow, Lift my heart, heal my shame, Lead me into rest again ... Heroine ... Rest in Peace, Sinead," read the band's post. The words quoted "Heroine," a 1986 tune O'Connor recorded with the Edge for the soundtrack to the film Captive.
Over the years, U2 and O'Connor shared a mutual admiration for one another. The Irish acts joined forces a handful of times, including the aforementioned soundtrack work and two songs on O'Connor's 2005 Collaborations compilation album.
The famously serious O'Connor even showed a lighter side regarding U2, once joking that fear of Bono speaking at her funeral helped keep her alive.
"You wanna know what finally stops me whenever I feel suicidal (rarely) since 2016 (ain't done anything silly since then) is the idea Bono might speak at my funeral," O'Connor tweeted in 2018. "He'd shite on, is the thing. 'But oh, didn't we love her, national treasure' – bleh. Reasons for living, definitely best reason for living. Must stay alive longer than Bono."
When Bono turned 60 in 2020 he chose 60 songs that each represented a year of his life. Among his selections is "You Made Me the Thief of Your Heart," a song written by Bono but recorded by O'Connor for the 1993 film In the Name of the Father.
"I heard your voice first as a teenager," Bono wrote on social media at the time, honoring O'Connor's talent. "Maybe you were 15 or 16. It was a demo of a song called [Take My Hand] from Steve Wickham's newly formed band In Tua Nua and I felt I had stumbled upon a new land with its own unique voice.
"I was as impressed as everyone else with all the great singing and songs along the way," he continued, "but the next time I was moved like this was at a solo show here in Dublin where you sang [You Made Me the Thief of Your Heart] and you stole my heart all over again."
U2 Albums Ranked
U2 don't inspire weak reactions in people. There are passionate U2 fans, and passionate U2 haters, and very little in between.