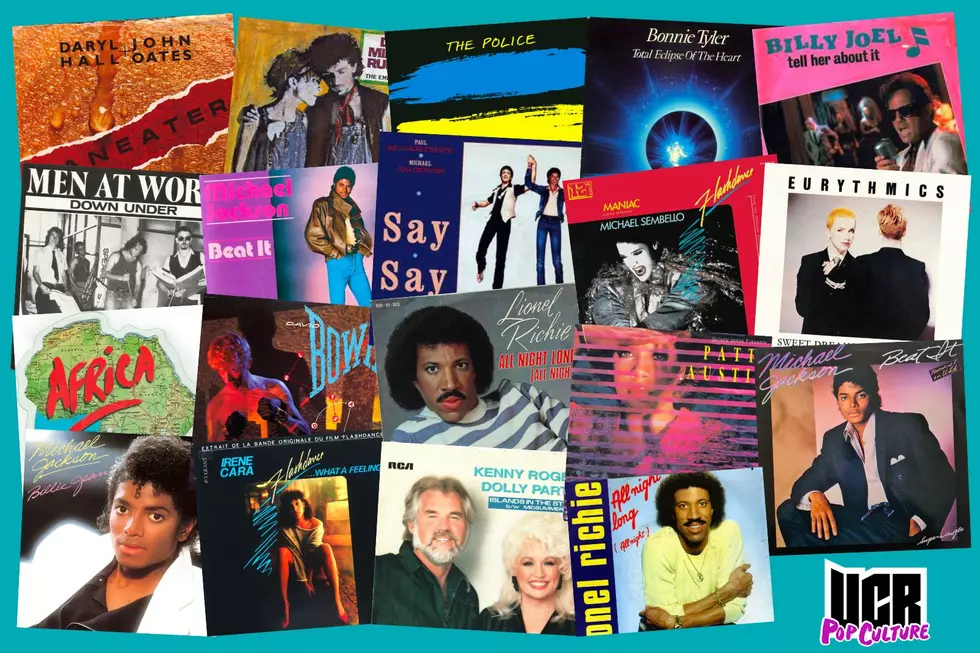 1983's No. 1 Hit Songs: Where are the Artists Now?
UCR
Crafting a hit song sometimes happens immediately. "The lyrics, the strings, the chords, everything comes at the moment like a gift that is put right into your head and that's how I hear it," Michael Jackson explained in 1994 while defending himself against a copyright lawsuit.
Sometimes it takes a while longer. John Oates made several attempts at "Maneater" to get the right groove. "We try and take chances," Daryl Hall once said. "Our new single 'Maneater' isn't something that sounds like anything else on the radio. The idea is to make things better."
Hall & Oates' single began 1983 at No. 1. The year was filled with superstars like Jackson and Lionel Richie and new artists who finally caught their big break, like Eurythmics and Dexys Midnight Runners.
We take a chronological look below at 1983's No. 1 Hit Songs: Where are the Artists Now?
Daryl Hall & John Oates, "Maneater" (January)
From: H20 (1982)
Hall & Oates had already enjoyed a handful of hits at the top of the '80s — "Private Eyes" and "I Can't Go for That" both topped the chart — and they had no plans to slow down. "Maneater," which began life as a reggae song Oates was working on with Edgar Winter, was the lead single from 1982's H20 and became the duo's fourth No. 1 single of the decade. (H20 yielded two other Top 10 songs, "One on One" and "Family Man.")  More hits followed before things cooled off in the '90s. Hall & Oates still perform together but haven't released an album of original material since 2003's Do It for Love.
Men at Work, "Down Under" (January/February)
From: Business as Usual (1981)
"Down Under" was first released in 1980, before Men at Work signed with Columbia Records. The song slowly made its way up the chart, reaching No. 1 in the U.S. in January 1983, while also hitting that position in other countries. (They also hit No. 1 with "Who Can It Be Now?" in 1982.) The Australian band's next album, Cargo, was also a success, yielding two more Top 10 hits. But Men at Work called it a day in 1985, breaking up and never getting back together, though members Colin Hay and Greg Ham toured South America in 1996 and released a live hits collection. Singer-songwriter Hay's solo career has been busy with more than a dozen solo albums and collaborations with artists like Ringo Starr. Ham died in 2012.
Toto, "Africa" (February)
From: Toto IV (1982)
1983 was a great time to be in Toto — "Africa" nudged "Down Under" from the No. 1 spot in February — but it was also challenging because a few longtime members had left the band. Even though Toto continued to be successful, nothing matched the era surrounding the Grammy-winning Toto IV. Toto went through many more lineup changes over the decades. Steve Lukather, David Paich and Joseph Williams still record together. Their most recent album, Old Is New, arrived in 2018.
Patti Austin and James Ingram, "Baby, Come to Me" (February)
From: Every Home Should Have One (1981)
When Patti Austin's duet with James Ingram was first released in 1981, it didn't go anywhere. But after it was used in the soap opera General Hospital, it was reissued in late 1982 and topped the chart in February 1983. It was Austin's biggest hit, but she continued to release records. She was booked for United Flight 93 on Sept. 11, 2001, but canceled after her mother had a stroke a few days earlier. She continues to make music and runs a mentoring program, the Over My Shoulder Foundation.
Michael Jackson, "Billie Jean" (March/April)
From: Thriller (1982)
Jackson was already a big star in the '70s and the early '80s when 1983 launched him into another place. 1982's Thriller included seven singles that made the Top 10. "Billie Jean" was the first to hit the top. Jackson went on to score 13 No. 1 singles on Billboard's Hot 100, making him one of the most successful artists ever. His last album, 2001's Invincible, debuted at No. 1. He died in 2009 of a cardiac arrest.
Dexys Midnight Runners, "Come On Eileen" (April)
From: Too-Rye-Ay (1982)
Released in the summer of 1982, Dexys Midnight Runners' "Come On Eileen" finally hit No. 1 the next spring. The band released a follow-up album, Don't Stand Me Down, two years later but then parted ways until 2012's One Day I'm Going to Soar. Leader Kevin Rowland trimmed the band's name to Dexys for an album in 2023.
Michael Jackson, "Beat It" (April/May)
From: Thriller (1982)
Michael Jackson wasn't out of the top spot for long. He returned to No. 1 at the end of April with "Beat It," the third single from Thriller. Jackson's chart competition at the time appears on the song: Jeff and Steve Porcaro of Toto provide backing on the hit song. After the video went into heavy rotation on MTV, Jackson became unstoppable.
David Bowie, "Let's Dance" (May)
From: Let's Dance (1983)
David Bowie grabbed the top spot with the title track to Let's Dance in May 1983. The song was co-produced by Nile Rodgers of Chic and became one of the bestselling songs of Bowie's career (and one of only two No. 1s). A follow-up pop album in 1984, Tonight, yielded a couple of hits, but Bowie steered toward a harder rock sound by the next decade. He died in January 2016, just days after releasing his only No. 1 album.
Irene Cara, "Flashdance ... What a Feeling" (May/June/July)
From: What a Feelin' (1983)
The first single to be released from the Flashdance soundtrack was a phenomenal success, but drama soon followed after singer Irene Cara became aware she wasn't receiving the royalties stipulated in her recording contract. She sued, won and continued an acting career that included roles in City Heat (1984), Certain Fury (1985) and Caged in Paradiso (1989). She released a third and final album, Carasmatic, in 1987, and died in November 2022 at the age of 63, due to cardiac complications.
The Police, "Every Breath You Take" (July/August)
From: Synchronicity (1983)
The biggest hit of 1983 arrived just in time for summer. The Police became one of the most popular artists in the world following "Every Breath You Take," which went to No. 1 everywhere. Other hits from the Synchronicity LP — "King of Pain" and "Synchronicity II" — kept the band on the road for a year, but it also ended up their last record together. The Police split up soon after but reunited in 2007 for a successful tour. All three members have enjoyed successful solo careers.
Eurythmics, "Sweet Dreams (Are Made of This)" (September)
From: Sweet Dreams (Are Made of This) (1983)
"Sweet Dreams (Are Made of This)" was released at the top of the year as the fourth and final single from Eurythmics' self-titled album. The song broke the band, and more hits followed, including "Who's That Girl?," "Right by Your Side" and "Here Comes the Rain Again." By 1990 Dave Stewart was working on film soundtracks and Annie Lennox started releasing solo albums. The pair reunited a few times since then, most recently at the 2022 Rock & Roll Hall of Fame induction ceremony.
Michael Sembello, "Maniac" (September)
From: Bossa Nova Hotel (1983)
Another chart-topper from the 1983 movie Flashdance, Michael Sembello's "Maniac" followed the title track to No. 1 in September. The song also appeared on Sembello's debut album, Bossa Nova Hotel. Even though Sembello's career included work with Stevie Wonder, "Maniac" was his only huge hit. He released four more solo albums, the most recent of which was 2002's Ancient Future. He's also contributed to films like Summer Lovers (1982), Cocoon (1985) and Independence Day (1996).
Billy Joel, "Tell Her About It" (September)
From: An Innocent Man (1983)
Billy Joel took over the No. 1 spot for one week in September 1983 with "Tell Her About It." This was his second No. 1, following "It's Still Rock and Roll to Me," but not his last. He'd return to the top of the chart with 1989's "We Didn't Start the Fire." Joel's last album, a classical work titled Fantasies & Delusions, was released in 2001. He's said he's no longer interested in making new music, but he continues to perform live.
Bonnie Tyler, "Total Eclipse of the Heart" (October)
From: Faster Than the Speed of Night (1983)
Not only did "Total Eclipse of the Heart" go to No. 1, but the album it appears on, Faster Than the Speed of Night, debuted at No. 1 in the U.K. and earned Bonnie Tyler several award nominations. More '80s singles followed — "Here She Comes," "If You Were a Woman (And I Was a Man)" — but Tyler's success was greater in Europe and the U.K. than in the U.S. Her most recent album, The Best Is Yet to Come, arrived in 2021.
Kenny Rogers and Dolly Parton, "Islands in the Stream" (October/November)
From: Eyes That See in the Dark (1983)
How's this for star power? "Islands in the Stream" was written by Bee Gees, and sung by Kenny Rogers and Dolly Parton. It appeared on Rogers' 1983 album, Eyes That See in the Dark, and turned out to be the second No. 1 pop hit for Rogers and Parton, who continued to be huge country stars. Rogers died in 2020, and a posthumous album, Life Is Like a Song, came in 2023. Parton has released approximately 50 albums and was inducted into the Rock & Roll Hall of Fame in 2022.
Lionel Richie, "All Night Long (All Night)" (November/December)
From: Can't Slow Down (1982)
While Can't Slow Down was Lionel Richie's second solo album, he was used to topping the charts as a songwriter and performer. "All Night Long (All Night)" was one of his biggest hits, and he wasn't done yet. More Top 10 hits followed, including "Hello," "Stuck on You," "Running With the Night" and "Penny Lover." Richie's chart success eventually began to dwindle, but he's kept making music; 2012's Tuskegee is his latest album. He's won four Grammys and was inducted into the Rock & Roll Hall of Fame in 2022.
Paul McCartney and Michael Jackson, "Say Say Say" (December)
From: Pipes of Peace (1983)
Michael Jackson, who dominated the middle part of 1983, returned to the top at the end of the year with a collaboration with  Paul McCartney. The song appeared on McCartney's Pipes of Peace album. He's continued to record albums and tour. He also holds the record for the former Beatle with the most No. 1 solo hits: nine.
80 Debuts That Helped Shape '80s Pop Culture
Movies, music, fashion, food - there were some incredible firsts during the decade.