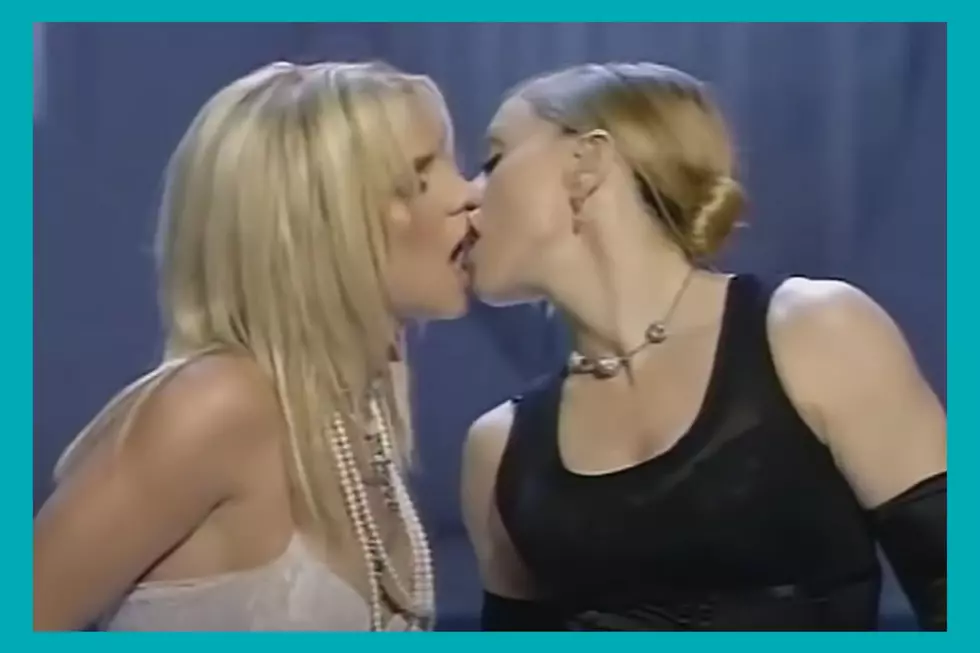 20 Years Ago: Madonna Kisses Britney Spears at the VMAs
YouTube
When former MTV president Van Toffler invited Madonna to the 2003 Video Music Awards, he knew she would bring the party. What he didn't know was just how far she'd take it.
"I don't have to encourage Madonna to go over the top," he told Rolling Stone in 2023. "That's in her DNA."
Madonna was given pretty much full freedom to perform as she wished. She initially chose Britney Spears and Jennifer Lopez to come onstage with her, but Lopez was forced to drop out because she was shooting the movie Shall We Dance? Christina Aguilera was tapped to take her place. MTV was more than OK with this: Spears and Aguilera were two of the biggest pop stars in the world at the time, and to have them onstage with the queen of the genre was sure to be a hit.
Rehearsals took place at Radio City Music Hall a few weeks before the show and were locked down tightly; Madonna wanted few people to know what was going on, and Spears and Aguilera were encouraged to follow her lead. "Madonna kept making them do things over, and they were totally listening to her," Summer Strauch, a producer and photographer who worked on the VMAs, told Rolling Stone.
When the show rolled around on Aug. 28, 2003, it was a surprise to most when Madonna kissed Spears on the mouth and followed that by kissing Aguilera during her performance of "Hollywood," which opened the broadcast. It was one of the most scandalous moves seen on TV during the first part of the '00s.
Watch Madonna Kiss Britney Spears and Christina Aguilera at the 2003 VMAs
Only a handful of MTV executives knew the kiss was coming. One of the first reaction shots — which cut away from Madonna's Aguilera smooch — was of an upset-looking Justin Timberlake, whom Spears had dated for a time. Celebrity reactions - some thrilled, some less so - followed by Beyonce, Snoop Dogg, Mary J. Blige, 50 Cent, Lindsey Lohan and many more.
But not everyone approved. The New York Post called it a "raunchy, bump-and-grind dance routine that ended in explicit, open-mouth kisses. "The world is still talking about it," Oprah Winfrey noted when Madonna appeared on Oprah a few weeks later. "I had no idea that it was going to cause the ruckus that it caused," Madonna said.
This wasn't the first time Madonna caused a stir at the VMAs. In 1984, during the first VMAs, she sang "Like a Virgin" and her shoes fell off. She went to grab them, exposing the underside of her dress. Madonna rolled with the wardrobe malfunction, but many at the time were convinced it was a fatal mishap. She later recalled that when she came offstage, her manager said her "career was over with."
Instead, Madonna became one of the biggest stars of the era. Her 2003 VMA kiss didn't slow her, or MTV, down. "It's just par for the course," Toffler said in 2023. "The older demographic wasn't ready for it."
Madonna Albums Ranked
As one of the most fearless artists of the modern era, she's never turned away from controversy or big songs.