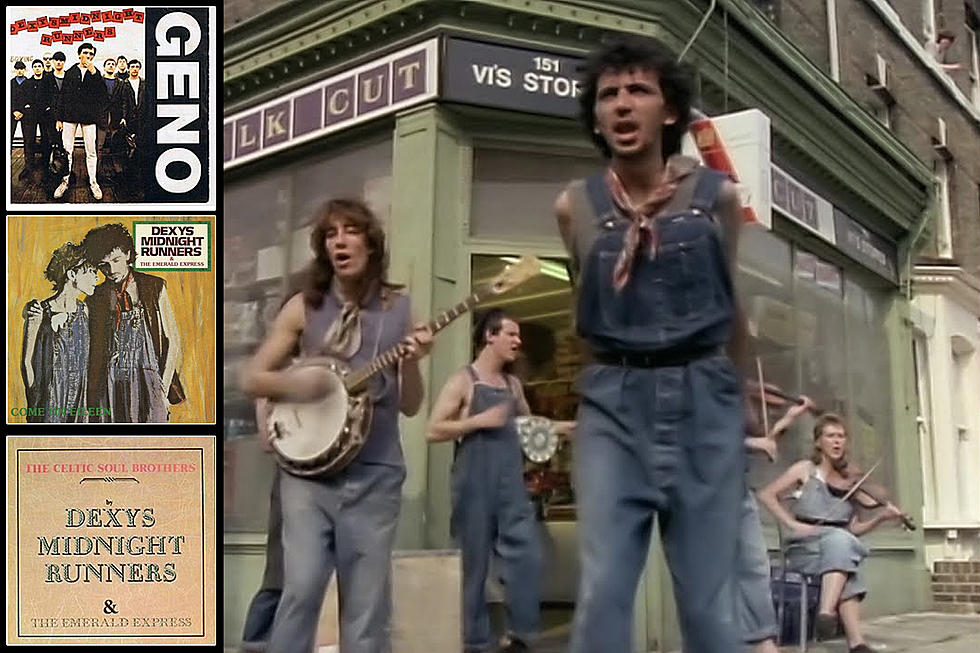 What Was Dexys Midnight Runners' Second Biggest Hit?
Mercury / EMI / YouTube
To most of the world, Dexys Midnight Runners are the definition of a one-hit wonder. In reality, however, they achieved significantly more success in their homeland.
The British band is best known for their infectious 1982 global chart-topper "Come On Eileen," but between 1979 and 1986 they released eight Top 40 hits in the U.K. "Eileen" wasn't even their first British No. 1 hit.
That honor belongs to "Geno," from the Kevin Rowland-fronted group's debut Searching for the Young Soul Rebels. The horn-heavy tribute to '60s and '70s American R&B star Geno Washington reached the top of the U.K. charts in May 1980.
READ MORE: 22 One-Hit Wonders From the '80s – Where Are They Now?
"Come On Eileen" took over airwaves around the world two years later, as the second single released from the band's 1982 sophomore album Too-Rye-Ay. Capitalizing on that success proved difficult. Dexys' next release, a cover of Van Morrison's "Jackie Wilson Said," hit the Top 10 in England and Ireland yet floundered in most other countries. The single didn't even reach the Top 100 in America.
A 1983 re-release of "Geno" met the same fate. The band next tried yet another re-release, this time of Too-Rye-Ay's first single. "The Celtic Soul Brothers" only reached No. 86 on the Billboard Top 100, and is to date the last time Dexys Midnight Runners have cracked the American charts.
Listen to Dexys Midnight Runners' 'Geno'
How Dexys Moved On After 'Come On Eileen'
They endured a series of lineup changes, hiatuses and reformations over the decades, with Rowland as the only constant member. In 2011, he officially shortened the group's name to Dexys. Their most recent album, The Feminine Divine, was released in July 2023.
"I don't look back," Rowland told NME last summer. "As an artist, you've got to keep moving forward. I'm grateful for 'Eileen,' and the money means I can live and do other projects. It can be frustrating that in America we're seen as a one-hit wonder, but here and Europe it's not like that – especially amongst music fans. My focus is always on what I'm doing now."
Still, Rowland allowed himself to take a small amount of pride in past accomplishments during a 2023 interview with the The Observer.
"I don't have any of our gold discs. I've barely even kept any of the records," he said. "But just lately, I've thought, hang on: We've made six albums, and I think they're all pretty good – and I've got another one in mind. When I was 15, I was often in police cells when I should have been in school, looking like a real no-hoper. If you had said then that I'd be sitting down now and talking to The Observer about my music, no one would have believed you."
Watch Dexys Midnight Runners' 'Celtic Soul Brothers' Video
80 Debuts That Helped Shape '80s Pop Culture
Movies, music, fashion, food - there were some incredible firsts during the decade.
Gallery Credit: Corey Irwin