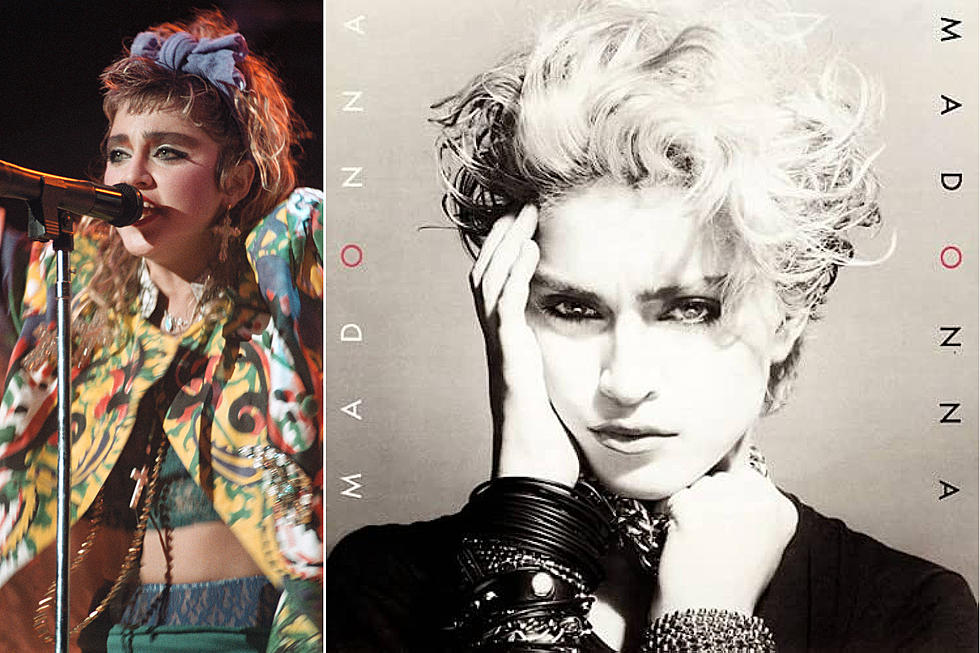 40 Years Ago: Madonna's Global Conquest Begins
Jim Steinfeldt, Getty Images / Sire
Madonna was asked about her goals in the early stages of recording her debut album. "I want to rule the world," she responded.
Amazingly, she would. But this global conquest had humble beginnings.
After moving to New York from Michigan, Madonna bounced through various projects. She got gigs as a backup singer and dancer. She had short stints in the Breakfast Club, and Emmy and the Emmys. Though none of them proved fruitful, these early gigs helped Madonna establish relationships within New York's music club scene.
Once she launched a solo career, Madonna took her demo around to some of the Big Apple's hottest night spots, trying to convince DJs to play her music. Her music caught the attention of DJ Mark Kamins at Danceteria, who helped Madonna meet Seymour Stein, president of Sire Records.
"She was a study," Stein later admitted. "I could see how ambitious she was – how strong she was."
Watch Madonna's 'Everybody' Video
Stein signed Madonna to her first record deal, which was initially a guarantee of three singles with the option to make a full album. After the early singles "Everybody" and "Burning Up" became club hits, the album was green-lit.
Finding the right musical direction for Madonna would be imperative to her success. The death of disco had left dance music in a state of flux, but there was a clear void for her to fill.
"We really felt that if we were to combine disco and R&B and new wave, we would have something really cool," Michael Rosenblatt, Madonna's original A&R representative at Sire Records, told the New York Post. "We invented a format."
Kamins produced "Everybody," but Madonna wanted someone more seasoned to handle her LP. She enlisted Reggie Lucas, who had worked with R&B singers such as Stephanie Mills, Phyllis Hyman and Roberta Flack.
"When Warner Bros. called me about working with Madonna, I was the big score," Lucas told Rolling Stone. "It seems ridiculous in retrospect, but I was an established professional and she was a nobody. I met with her at a tiny little apartment she had in the Lower East Side. I thought she was vivacious and sexy and interesting, and had a lot of energy."
Skepticism abounded: "Most of the people around Madonna at the corporate level did not get her and for the most part did not like her," Lucas said.
Watch Madonna's 'Lucky Star' Video
"You could see them recoil from her bohemianism. Everybody thought she was crazy and gross. I would never say she was a punk rocker, but she used to wear little boys' shorts, and white t-shirts with holes in them, and then she had little ring things in her ears," Lucas added. "She wasn't the weirdest person I'd ever met, you know? I'd worked with Sun Ra! So after hanging out with the Heliocentric Worlds of Sun Ra, Madonna didn't seem particularly avant-garde."
Madonna only had a handful of songs when she entered the studio to record her self-titled debut, including "Everybody" and "Burning Up." She'd been toying with "Think of Me" and "I Know It" for months. Another original, "Lucky Star," seemed primed for success: Many within Madonna's record label picked it to be the breakout single, though Madonna was less confident.
Lucas wrote two songs for the LP, "Physical Attraction" and "Borderline," as he and Madonna began to bicker. Lucas wanted to embellish the songs with dense pop arrangements, while she preferred a sparser sound. Madonna ultimately dismissed Lucas before the album's completion and brought in club DJ John "Jellybean" Benitez to remix some of the material.
She had seven songs in the can but needed one more track to complete Madonna. With money and time running short, Benitez suggested "Holiday" The song, written by Curtis Hudson and Lisa Stevens-Crowder, had already been passed on by several acts – including former Supremes singer Mary Wilson.
Watch Madonna's 'Borderline' Video
"I remember calling Quincy Jones [and] just saying, 'Hey, I'm doing this record. Any advice you can give?'" Benitez told the New York Post. "And he said basically, 'Trust your instincts. Go make something that you're gonna play.'"
In just a few days, Madonna and Benitez were able to turn "Holiday" into an era-defining single. Still, Madonna did not garner initial fanfare. Released on July 27, 1983, the album didn't enter the Billboard 200 until Sept. 3 – when it debuted at No. 190.
Then "Holiday" began climbing the dance charts, before crossing over to the Hot 100, where it peaked at No. 16. The song's popularity marked Madonna's mainstream introduction. Its success – followed by the ensuing singles "Lucky Star" and "Borderline," which each reached the Top 10 – helped push Madonna to multi-platinum sales.
Madonna would later express regret about how hastily her debut was put together, lamenting that she "wasn't in control" and wishing the LP had "more variety." Regardless, Madonna stands as one of the most impactful debuts in music history, the moment when a future icon confidently stepped onto the world's stage.
Madonna Albums Ranked
As one of the most fearless artists of the modern era, she's never turned away from controversy or big songs.