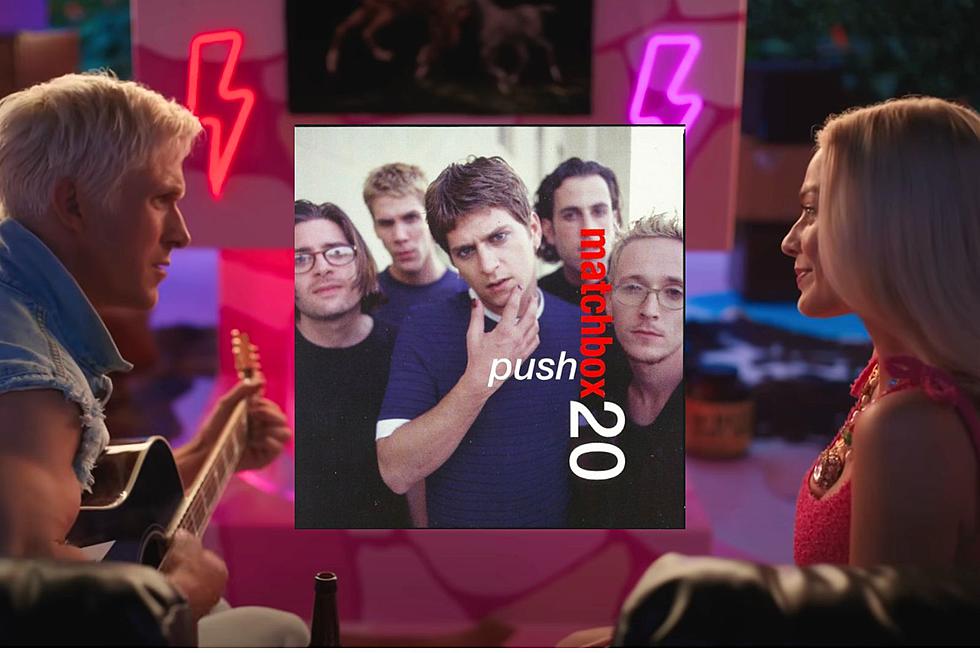 Matchbox Twenty's Rob Thomas is OK Being the Butt of 'Barbie' Joke
YouTube / Atlantic, Lava
Matchbox Twenty's "Push" makes an appearance in the new blockbuster Barbie movie sung by Ryan Gosling, who plays Ken in the film. The 1996 hit is the butt of a joke in the film, but the band's singer, Rob Thomas, was OK with that.
"When I got the call for Barbie, they told me, 'Ken's by the fireside, he's playing the song and it's his favorite band,'" he told USA Today. "So I did this thinking I'd be the butt of the joke, and I was fine with that. I'm pretty thick-skinned."
In the scene, Ken plays guitar and attempts to serenade Barbie (Margot Robbie) with Matchbox Twenty's hit 1996 song, an endeavor that goes on for hours. But how did the song end up here?
It started with director and co-writer Greta Gerwig, who was trying to think of a complement to the song Barbie sings along to, a cover of the Indigo Girls' "Closer to Fine" performed by Brandi and Catherine Carlile.
"I was like, Well, if Barbies loved Indigo Girls' 'Closer to Fine,' which is one of my favorite songs of all time, the Kens might really attach to Matchbox Twenty," Gerwig said in a discussion with Entertainment Weekly.
Watch Matchbox Twenty's 'Push' Video
Gerwig was also a big fan of "Push." "Growing up, I loved that song," she told USA Today. "I was like, 'This is my rock 'n' roll, Dad. Enjoy the Who, but these are my guys,'" she explained. "And it wasn't until college that I actually thought, 'What is that song about?' Just thinking about 13-year-old me singing along and really meaning it, I was like, 'That is so interesting.' I looked it up and, in a way, [Thomas] was playing a character. It's almost like a story song."
The feeling was mutual. Thomas said he was a big fan of the director and her work. "Greta Gerwig has been one of my crushes forever," he noted. "To the point where I was on a plane one time and I called my wife, like, 'Baby, Greta Gerwig just came on the plane, Oh, my god.' So just the fact that it didn't diminish my crush of Greta, that's even better."
Thomas added that he's looking forward to seeing the movie, which made more than $150 million at the box office this past weekend. "I'm probably going to stream it on my bus when it's available to everyone else because apparently, I'm not famous enough to get a screener," he joked. "No, listen, I'm excited to see two of the most beautiful people on the planet while I listen to my own song. That's pretty amazing, in and of itself."
Top 30 American Classic Rock Bands of the '90s