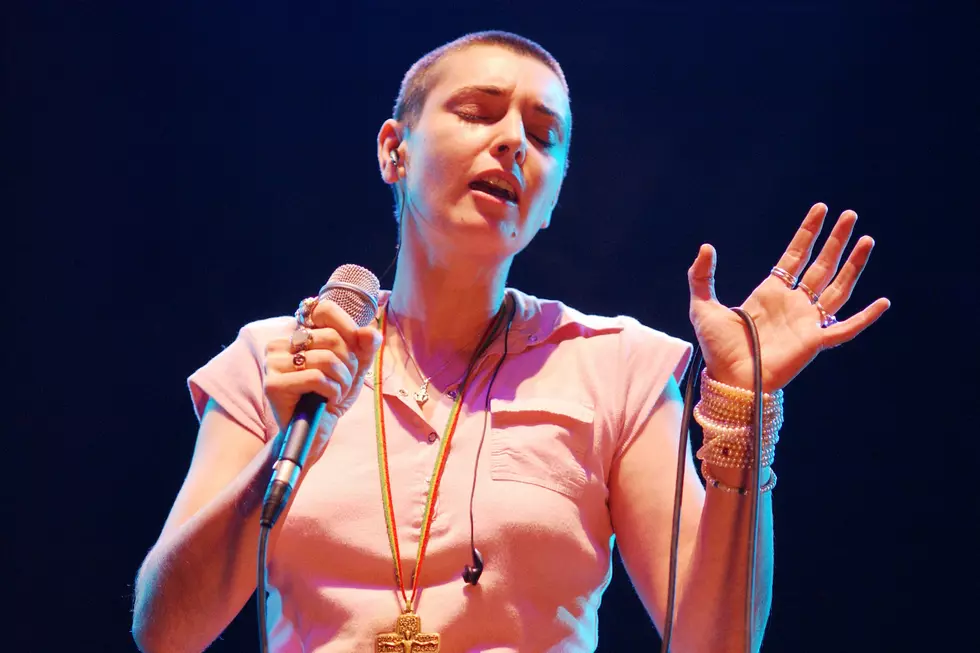 Sinead O'Connor Dead at 56
Getty Images
Sinead O'Connor, the Irish singer best known for her chart-topping hit "Nothing Compares 2 U" has died at the age of 56.
According to The Telegraph, it is not known how she died. She had struggled with mental health issues throughout her career, most recently last year after the death of her son.
Born Dec. 8, 1966, O'Connor was the third of five children. Raised in a broken home where she allegedly suffered abuse from both parents, the future musician was routinely in trouble as a kid. At 15 years old, she was placed in a church-run asylum. "I will never experience such panic and terror and agony over anything like I did at that place," the singer would later recall of the traumatic experience. "If you were bad, they sent you upstairs to sleep in the old folks' home. You're in there in the pitch black, you can smell the shit and the puke and everything, and these old women are moaning in their sleep."
It was during this time that O'Connor began to sing, partly as a way to deal with the intensity of her situation. Her first gig as a teen was singing at a wedding. She enjoyed the experience so much that she became determined to pursue a life of music.
The aspiring singer would join a band in Dublin, eventually dropping out of school altogether to chase her dream. Local gigs would catch the attention of music executives who signed O'Connor to her first contract.
In 1986, the singer co-wrote the song "Heroine" with the Edge of U2. O'Connor also provided vocals for the track, which featured on the soundtrack to the film Captive.
A year later, O'Connor released her debut album, The Lion and the Cobra. The LP garnered worldwide attention and earned the singer her first Grammy nomination. Songs "Mandinka" and "I Want Your (Hands on Me)" garnered significant radio airplay, with the latter track earning extra attention after appearing in A Nightmare on Elm Street 4: The Dream Master. Still, it was O'Connor's next LP that truly shot her to stardom.
In 1990, the singer released I Do Not Want What I Haven't Got, the album featuring her massive hit "Nothing Compares 2 U." The song was originally written by Prince and first put out by the Family in 1985, but received little recognition at that time. In O'Connor's hands, the angsty power ballad became a worldwide phenomenon. The song hit No. 1 in more than 20 different countries, including four weeks atop the Billboard Hot 100.
"The song reminded me of my mother, who had died three years previously," O'Connor later explained of "Nothing Compares 2 U," a realization she didn't make until filming the song's music video. "I made an emotional connection, which I was not expecting — it didn't hit me when I was recording the song. It only kicked in when I was being filmed. So I was sitting there, thinking about me mother, and trying hard not to bawl my eyes out."
"Nothing Compares 2 U" turned O'Connor into a worldwide superstar, a status that seemingly conflicted with her rebellious nature. In 1992, the singer appeared on Saturday Night Live and made headlines by tearing up a picture of Pope John Paul II while performing an a cappella version of Bob Marley's "War." "Fight the real enemy," O'Connor defiantly declared on camera, making a statement against child abuse in the Catholic Church. The act would lead to a firestorm of media coverage, with pundits all over the world weighing in on the controversy.
"'Sinead O'Connor' was never meant to be a pop star," she later explained to Today. "I was really a protest singer." Even though the SNL appearance would haunt O'Connor throughout the rest of her public life, the singer never regretted her actions. "I'm not sorry I did it. It was brilliant."
Even after the Pope-ripping controversy, O'Connor continued to remain an in-demand songstress. In 1993 she recorded the song "You Made Me the Thief of Your Heart" -- written by Bono -- for the soundtrack to the film In the Name of the Father. In 1994, she was one of many special guests to appear on the musical event (and later live album) A Celebration: The Music of Pete Townshend and the Who. Further collaborations over the years would include work with Dave Stewart of Eurythmics, Peter Gabriel, Wyclef Jean, Ian Brown and Mary J. Blige.
In total, O'Connor released 10 albums between 1987 and 2014, earning one Grammy Award, two Billboard Music Awards, three MTV Video Awards and a Golden Globe nomination in the process. In 2021, the singer announced her retirement from music. "I've gotten older and I'm tired. So it's time for me to hang up my nipple tassels, having truly given my all," she proclaimed while announcing her final album, No Veteran Dies Alone, would arrive in 2022. She'd later walk back those comments, saying that she still intended to tour.
O'Connor dealt with various health issues over her life, including bipolar disorder, addiction and fibromyalgia. The singer had four children and was married four times. On Jan. 8, 2022, her 17-year-old son, Shane, was found dead. Just days afterward, O'Connor checked herself into a hospital, following a series of disturbing tweets. "I've decided to follow my son. There is no point living without him. Everything I touch, I ruin. I only stayed for him. And now he's gone," she wrote.
In Memoriam: 2023 Deaths
A look at those we've lost.